Algonquin College Fall Business Leadership Conference
October 17, 2022 @ 8:00 am

-

4:30 pm

$264.88 – $300.84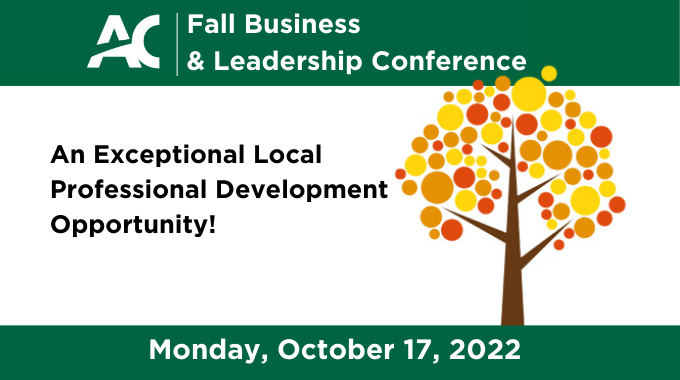 The Algonquin College Fall Business & Leadership Conference is an affordable and quality professional development opportunity.
About this event
In response to Renfrew County's growing need for local, affordable, and quality professional development opportunities, Algonquin College's Pembroke Campus presents its annual Fall Business and Leadership conference opportunity again this year on Monday, October 17, 2022. Participants can join the conference from their home or office or come on campus to network with other conference registrants.
This year's theme focuses on the labour market and creating the right conditions to attract and retain employees. Again this year, the focus is on smaller rural businesses.
2022 Facilitators Line-up
KEYNOTE: Ken Coates, The Changing Face of Canada's Workforce: Rural Dimensions on a National Problem
KEYNOTE: Tina Varughere, The Human Side of Unconscious Bias
KEYNOTE: Rocco Rossi, Demonstrating Resilience Through a Shifting Labour Market
WORKSHOP: Workplace Mental Wellness-A Community Approach, Angela Warren, Founder of Leaves of Hope and a suicide prevention advocate and LifeWorkers Certified Master Trainer for 8+ years. During this engaging presentation, you will be able to identify areas of growth for your company, learn ways to support workplace mental wellness from a leadership perspective and gain sustainable strategies that can be applied as well as ample resources.
WORKSHOP: Attracting and Retaining Talent in the New World of Work, Angela Hoyt, CEO of Evoluation Group Inc, This workshop will provide insight into the specific human resource challenges rural employers face, and practical solutions to weather the storm in the new world of work.
WORKSHOP: Creating Your Own Land Acknowledgement Statement, Aimee Bailey, Every Canadian has the privilege of living on land that once was the Traditional Territory of the Indigenous People who lived there before contact. Who are they? How did the land on which you live come to you? When and why did your ancestors come to Canada? What is the history of your people? What relationship, if any did your family have with the Indigenous People of your land? The answers to all of these questions will help you to realize how you got to where you are now, and will enable you to create your own authentic Land Acknowledgement Statement.
WORKSHOP: Using Data to Figure Out What's Happening in the Local Labour Market, Amanda Asselin, This workshop will show you how to find good local labour market information that is specific to the sector your business operates in, helping you to develop a recruitment and retention strategy that is data informed.
WORKSHOP: Empowering a Hybrid Workforce, Nancy Riopel, Despite the desire of many to return to a pre-Covid work environment, many employees prefer to, and have proven that they can work from home. Given this preference and the employee shortage, many workplaces are moving to a hybrid workforce. Managing a hybrid team requires more than merging the management practices that work at a distance with those that work with an in-person team.
Read profiles and workshop descriptions.
Registration Information
When you register, you will be required to select your workshops.  Please review workshop descriptions prior to registration.  Descriptions and conference details are available on our website: https://www.algonquincollege.com/pembroke/business-conference/workshops/
Early Bird Registration Fee (Until September 16, 2022): $220 + tax (includes choice of 3 workshops from 4 topics, 3 keynote addresses, a refreshment break, $25 gift card to purchase a special lunch for the day of the virtual conference, and networking opportunities).
Registration Fee After September 16, 2022: $250 + tax (includes choice of 3 workshops from 4 topics, 3 keynote addresses, a refreshment break, $25 gift card to purchase a special lunch for the day of the virtual conference, and networking opportunities).
*** Special bonus: Register 3 employees and receive a 4th registration for free! If you register 3 employees to attend the conference, and would like to send a fourth person free, please email Ellen Wong-Gallant at: wonge@algonquincollege.com or call 613-735-4700 x2760 to complete the registration for your bonus registration. ***
*Please note: All online registrations are subject to an Eventbrite service fee. If you prefer not to register online, please contact 613-735-4700 ext. 2831 to arrange an alternate payment option. 
SEE CANCELLATION POLICY BELOW.
Thanks to our past and present sponsors for helping to make this professional development opportunity possible:
Conference Cancellation Policy
Substitution:
If, after registering you are unable to attend, you are welcome to appoint someone else from your organization to attend in your place.
Please advise substitutions in writing. All substitutions can be emailed to Kate Gaudette at: gaudetk@algonquincollege.com
When requesting a substitution, please indicate which workshops your substitute wishes to attend if they are different from the ones you registered for. We will attempt to accommodate; however, our ability to accommodate is based on the availability of workshops and timing of the request. If we are unable to accommodate, your substitution will be registered in the workshops you originally registered for.
Refund:
Cancellation prior to October 10, 2022: 100% refund, minus Eventbrite processing fee.
Cancellation less than 7 days before conference (after October 10, 2022): No refund
Cancellation must be in writing. Cancellation notice can be emailed to Kate Gaudette at: gaudetk@algonquincollege.com